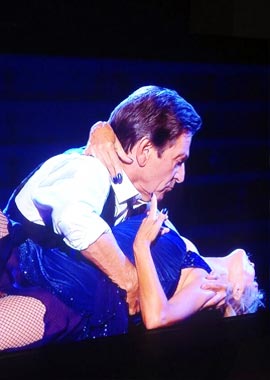 Oh my goodness, that was such an adrenalin rush on Saturday night doing the tango with my husband LIVE on television! My husband, who seemed to go into a funk the day before with his attention span plummeting to below zero, a swollen foot that caused him to limp when walking never mind dancing and an attitude that can only be described as bad ass!! Talk about stress! But as ever in show biz, it was alright on the night! We even got a standing ovation which blew us away! Now he keeps going on about wanting to do it again cause he feels he can do it better! Huh??? One chance Michael! One chance!
The format of the show was changed at the last minute so we ended up getting scored by our 3 judges! I can only tell you Michael was outraged by anyone claiming he didn't do much dancing! Outraged! I do think they should take into account the starting point of each person and where they end up on the night. Some people have a lot further to travel and personally, I was very proud of my man! I actually think his progress was amazing, specially as his starting point was so low it wasn't even on the chart! As our choreographer said, a good male dancer makes the woman look good even though he looks like he's not doing much! 
We are having a ball with the other couples and have good a laugh during the 2 long days in studio either wondering around between spray tans, make up and false nail glue-on sessions or the many rehearsals on stage getting ready for the live show. Sad to think someone will be leaving this weekend! In the meantime we're all working on our new dances which in our case is Line Dancing!! A whole new world for me I can tell you! Had to google it!

 If you missed the show here is a clip of all our bits (thanks to our most tech savvy and helpful fan, Di!):