Awhile back I fell in love with Neom's gorgeous Complete Bliss Body Lotion. Nourishing, organic, with a fresh uplifting smell. I've now discovered some of their other products and continue to be very impressed. They do divine organic candles (did you know most candles release toxins and pollutants as they burn?). However the product I'm most excited about is their Bath & Shower Indulgence Set. It goes without saying that's it's made of the finest ingredients without any synthetics added. They're oils to use in the bath or shower, in three different fragrances each of which is designed to do a different treatment.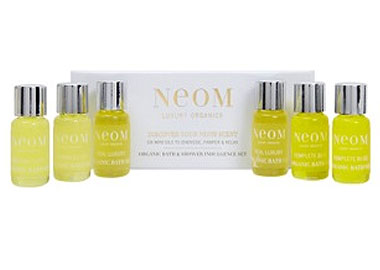 And one of the fragrances is the Complete Bliss (Moroccan  Rose) to compliment the body Lotion!  The other two are Lavender, Jasmine & Brazilian Rosewood and English Lavender, Sweet Basil & Jasmine.  Some relax, others uplift or calm the system. They smell absolutely divine and nourish the skin wonderfully. They also make a wonderful gift.
 I went to the lovely people at Victoria Health who gave us such a great deal on the body lotion and basically begged to get another great offer on this one. And they agreed! Hoorah!
They have slashed the price from £19 to £12, so another great deal. But only while stocks last.
Click here to view or buy: Neom Bath & Shower Indulgence Set