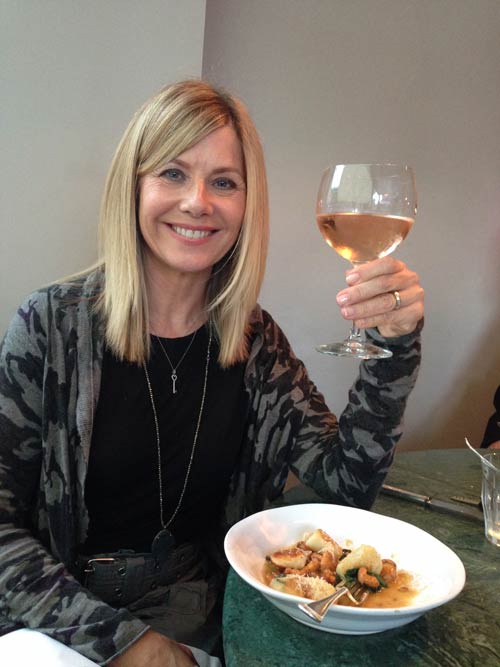 Boots schmoots! I feel firmly in the skinny pants, skimpy T shirt, skirt with heels camp! What bliss to have my clothes fit again. I do feel I've really earned it after being so disciplined and my only concern now is keeping it this way. Two weeks to go but will definitely be asking both Fleur and Rhys for a maintenance program as the benefits have been huge and I don't want to lose them.
In the meantime, I'm beginning to think this "cheat" meal idea of Fleurs' is actually a cunning plan! After being fairly restrained on my first one, I really went for it on my second one. In this photo you can see me at it, glass of pink in hand, wolfing down my gnocchi which was only the starter! It was followed by fish and chips and dessert…..and more wine of course. I was so full I thought I might explode as my body was stuffed with a huge amount of carbs, something it had forgotten existed. And the next morning I felt as if I'd consumed vast quantities of wine and felt ghastly. I was more than happy to go back to my protein and veggies for the day.
So what is this cheat meal? Here Fleur explains:
Fleur Borrelli (nutritionist) – Glynis has  now been following a special eating plan for a number of weeks.  My nutritional advice has centred around ensuring that she keeps her muscle tone whilst losing fat mass and after a fairly strict regime she has done just that.  She has lost what amounts to over a kilo of fat whilst holding onto her lean muscle.  Often with strict dieting and extreme weight loss, the muscle can come off with the fat.  Whilst this may look good on the scales, it is not beneficial and will make it much harder to keep the fat mass off later on.  And better still…. she has improved her total body water status making it much harder for the body to retain fat.
For Glynis' remaining few weeks she will follow a similar routine but with one exception – she is being allowed a 'cheat' meal.  The cheat meal has a number of advantages from psychological to physiological.  On the psychological side, it allows Glynis to taste some of the 'treats' she has been denied but only at one sitting.  Whilst this may be pleasurable at the time it can often draw attention to the fact that these treat foods can cause some intestinal discomfort as the gut has become used to more healthy options.  From a physiological point of view, if the cheat meal is eaten in replacement for a healthier meal, it will not disrupt the fat-burning process.  It is only when we add in the little extras here and there, between meals that this process is disturbed.  Additionally it may also help to prevent the metabolism from slowing down which can happen with calorie restriction.  The secret though is to drink even more water on cheat meal days and avoid the fruit.
In the meantime, the killer work outs with Rhys continue! I still find them really hard and challenging but am seeing a definite improvement in my ability to handle them. Certain stretches that had me gasping in agony are now feeling normal and my stamina for the relentless repetitions and sets of exercises one after the other, has definitely increased. 
Rhys Brooks (trainer) – Glynis' training over the last month has come a long way, she has worked hard and the results are showing. Her strength and capacity for work have improved greatly as have her movement patterns. Glynis is now able to perform her training at a greater intensity which is equating to body fat loss and the growth of lean muscle tissue. Over the coming weeks we will be adding density to Glynis' training program, she will now be performing 3 to 4 exercises back to back with a reduced rest periods. Previously we were doing 2 exercises in each set with a 45 second break between each of the 3 sets. This will create more of a metabolic cost resulting in further body fat reduction.
Tips For Avoiding a Fat Loss Plateau
1. Vary your program every 4 weeks. This will prevent the body adapting to the program.
2. Add more exercises and decrease rest periods to increase the metabolic cost of the session.
3. Don't judge your progress by the weight on your scales. You are adding muscle and reducing body fat. Rather have someone measure your body fat or go by how your clothes feel.
I know that a number of you have followed me into bootcamp and from what I hear, are having great results too! A big well done to all of you. If you haven't yet and are feeling less than your best, sluggish and low in mood or energy, then maybe have a go? You don't have to commit to 4 weeks but could take it a week at a time? Or even a day? Do have a look over the previous bootcamp articles to see exactly how I did it with lots of advice from Fleur and Rhys.