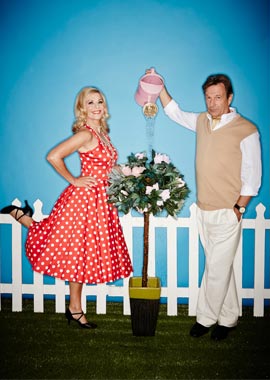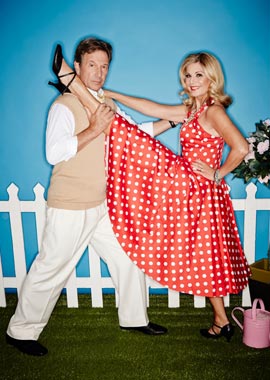 It's such a relief to finally be able to talk about my "secret project" which I have known about for months. What has possessed us to partake of a show that requires us to dance together knowing that at least one of us can't dance at all (guess which one??)? We keep looking at each other and saying "why are we doing this again??" but can't quite remember. After never having done any of these sorts of shows, we have quickly progressed from Mr & Mrs to full out throwing ourselves into the fire pit. And trust me it's been quite a journey. Dancing with one's husband is very very different to dancing with a pro! Unless ones' husband is John Travolta or Len Goodman or 25 years old! And that's just what I'm saying about him! They have of course filmed our entire journey so it will all be there to see on the night! Do not be surprised to see me with my eyes firmly shut, fingers in ears when they show the footage! 
Don't you love Michael's expression at having to hold a PINK watering can for these photos? He was outraged!
Wait til you see what dance we'll be doing first!