Last week I got to share a stage for the first time with my husband. And lovely it was too! However, it was the arrival of fans from all over the world that garnered the most attention. There were articles in the paper on a daily basis about it. Dundee did not know what had hit it!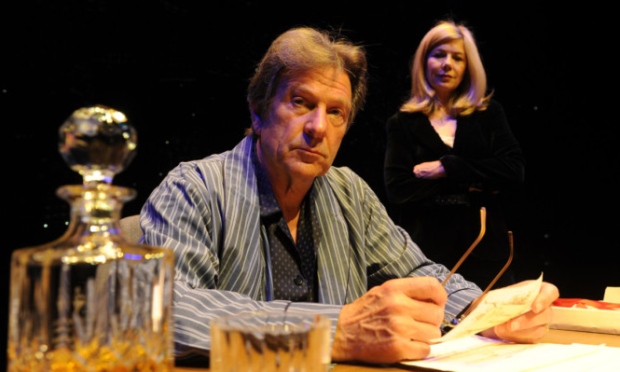 A group of hardcore Dempsey and Makepeace fans have travelled to Dundee from around the world to see the husband and wife team perform on stage together for the first time.
Stars of the crime drama, which ended in 1986, Glynis Barber and Michael Brandon, will star in play Love Letters, which opens at the Rep Theatre tonight.
Their dedicated fans from Canada, Poland, France, Holland and the UK, who met through Twitter 18 months ago, have seen them many times but this will be their first meet in Scotland.
The 13 fanatic women have 72 tickets throughout the week, including both matinee and evening performances, and have booked out the entire front row on Saturday.
Di Oliver, 54, from Coventry, is one of the women looking forward to seeing the continuation of the pair's on and off-screen love story.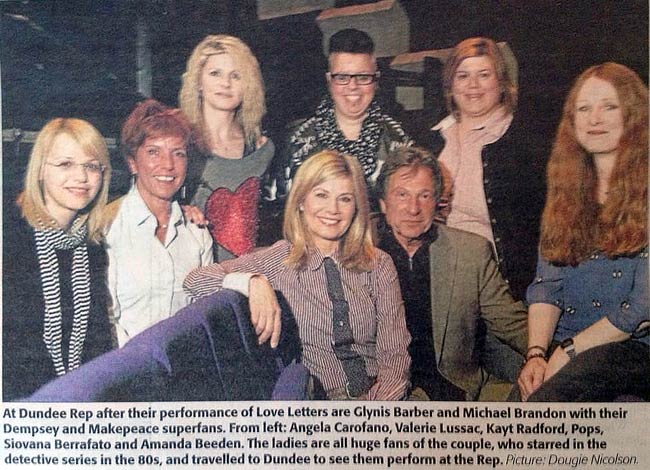 She said: "Dempsey and Makepeace is the key that started it all off because there was so much on-screen chemistry and we all love a love story.
"In Dempsey and Makepeace it was all 'will they won't they?' then they got together off-screen.
"To see them on stage together interacting for the first time will be fascinating. This is too big an opportunity to miss.
"Since Dempsey and Makepeace, they have not worked together except on some films ages ago. More recently they were in New Tricks together but not in the same scenes.
"We do enjoy watching all their other work too and can quote quite a lot of their stuff."
Di added: "We know how to sit quietly through a play and we will behave but we will cheer at the end.
"I'm sure they will be pleased to hear us in the audience. I think it is nice for them to have supporters coming to see them."
Fellow fan Mandy Beeden, who is organising the girls' trip, added: "We are all Dempsey and Makepeace nutters. We have tickets for every show and even when we are not at the theatre we will spend the week talking about the show.
Through their shared interest, the group has formed a close friendship. When the husband and wife team recently recorded an episode of TV game show Mr and Mrs, which is due to air next month, their fans were there to cheer them on.
Glynis commented on Twitter that she could feel the fans' presence at previous performances and said she is glad to have them follow them to Dundee.
She said: "I announced that I was doing the show and a lot of my fans on Twitter have befriended each other and they like nothing better than getting together to come and see me if I am performing in a play.
"Michael was in Chichester and then the West End and they all got together to see him and now they are coming all the way to Dundee."
Tickets for the show, which runs until May 11, are on sale at the Rep, 01382 223530 or visit www.dundeerep.co.uk.