The other week I wrote about my treatments for this fabulous natural facelift and how impressed I was with the results. You can read it HERE.
Well, when I embarked on the 6 week course, my wonderful practitioner, Shermine Boustany, was bemoaning the fact she didn't have any men to try it on. In Japan where it's very popular, men are as likely as women to do it, partly because it's so natural and the process so enjoyable.
"I've got a man for you" I found myself saying and promptly offered up my husband.
Now the thing you need to know about my husband is that he is devoid of any vanity. While he's partial to the odd massage, he's never had a beauty treatment in his life. He has neither the interest nor the patience. And he wasn't best pleased when I told him he would be embarking on a 12 session, 6 week course. Now he had already done a reflexology session with Shermine which he loved, but it was the thought of so many sessions that was making his head spin.
"But it's for my website" I pleaded, "and Shermine and I want to see how this works on a man and you don't have to do anything but lie there and think of Ageless!"
He really only agreed because he loves me. And so a hilarious few weeks began. Shermine and I planned it meticulously. She would come to our home and do us both on the same day. He wouldn't even have to leave the house or arrange anything, he would just have to lie on the bed. It all worked beautifully the first few times but after a week or so, we were literally chasing him round the house, trying to get him to lie down. "But I don't want to lie down, I'm too busy, I've got a script to read, you've done my face already, I don't have time for this."
And while this went on, he began to look younger and younger. The transformation was quite incredible. What was amazing was that he didn't even notice or care. But everyone else did. Friends kept saying how well he looked, how he looked younger than when they last saw him, that he obviously had a portrait in the attic.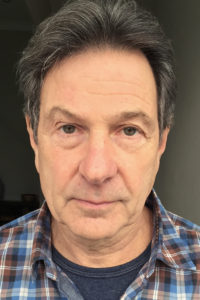 Before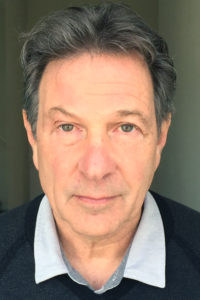 After
Even though I was getting great results too, they were more subtle (a by-product of the fact I already take good care of my skin). My husband does nothing! And it just goes to show what this treatment can do for someone who really doesn't do much to maintain their skin. This was no subtle difference but a totally remarkable one and I think it shows quite clearly in his photos. You can tell from his expression that he really didn't  want to take these photos which makes me chuckle when I look at them.
So a resounding yes to this treatment working for men, even (or maybe specifically) with reluctant ones.
As before Shermine is offering a very generous deal to anyone who mentions AGELESS.
She will take £10 off every session (usually £80) and a further £5 if you agree to have your photo taken.
She will also give a 7th session for free if you book 6 and will give 2 free sessions if you book 10.
You can find Shermine at her website: Shermine Reflexology Pathways.