I only recently discovered the pleasures and wonders of facial reflexology after many years of being a fan of the foot variety. I was very fortunate (and you can be too if you're in London) to meet a wonderful practitioner, Shermine Boustany. She has quite magical hands as she works her way round your face using the technique formulated by internationally renowned reflexologist Lone Sorensen.
And it turns out that reflexology is not the only thing they have up their sleeves. Lone has also developed a facial lifting technique that combines some of her facial reflexology moves with lifting massage type movements. And the results are just fantastic.
I feel hugely fortunate that I was able to embark on a full course of 12 treatments over a 6 week period with the wonderful Shermine. This is the optimal amount but I would say even one is well worth it. And if you can do more, so much the better.
I saw my face become more and more toned as the weeks went by (each session is like giving your face a serious work out), while also having a softer more relaxed quality. It's not surprising I was looking relaxed, as it's such a treat to have someone work on your face, deeply massaging and improving blood flow, eliminating toxins and stimulating collagen production. The benefits of this are so wide ranging, it's hard to know where to start.
This is the most natural type of face-lift I've ever come across. The face is made of muscles and like all muscles they can sag with time and under-use. I've always liked a good stimulating facial massage but this one is a little different. It works on actually lifting the muscles and is quite firm which to begin with I found a little uncomfortable. However, I got used to it very quickly and found myself yearning for the next session.
It helps with collagen, elasticity, facial sagging, wrinkles, sun damage, skin texture while also giving many of the benefits of facial reflexology. The only thing I could compare the effect to, are the non-invasive radio frequency treatments I've tried which are very expensive. This is a much cheaper option and I would say the results are very comparable and I'm almost tempted to say better. Whereas the radio frequency gives a big boost to collagen production, it doesn't tone your muscles like this. I really was very, very impressed. It also beautifully complements other rejuvenation treatments because the massage technique helps sculpt the face.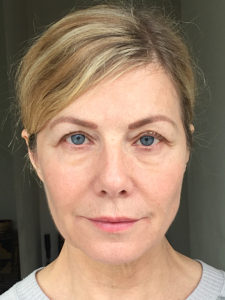 Before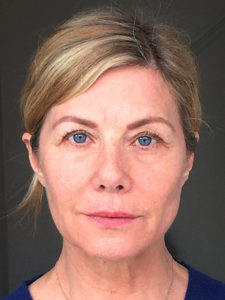 After
This technique is very popular in Japan (hence the name) where it is used by both men and women of all ages. Not only does it lift and rejuvenate the face but also stimulates 24 neuro points which triggers endorphins and serotonin, leaving you feeling really good. It reduces puffiness and fine lines, and brings radiance to the face. Lone has developed some pure, organic products to be used during the treatment and I loved the smell of the rosehip oil and rose cream. We also on occasion used frankincense essential oil with has a further anti-ageing effect. Afterwards a mask is applied which leaves the skin feeling soft and beautifully hydrated. The treatment is finished off with the use of salt balls (rich in minerals) being gently rolled around the face which cool and balance the skin.
I am, of course, trying out so many treatments and products (for the sake of this website you understand…well… ok for me too), that I might not be the best candidate for "Before" and "After" photos. However, I think you will see what I mean about looking softer and more relaxed? The difference is actually a lot more obvious in the flesh. I have therefore also included the photos of some other clients of Shermine that were taken in her living room. Completely untouched up and with no special lighting. I think the difference is quite incredible.
Shermine has agreed to give a VERY special rate to anyone quoting AGELESS. You will get £10 knocked off each £80 session (75 minutes) and a further £5 if you agree to have photos taken. And if you book 6 treatments, the 7th will be free. If you book 10 you get the 11th AND 12th free. Wow, that's a quite substantial saving. (She does treatments at her Fulham home or will come to you if you prefer)
You can find Shermine HERE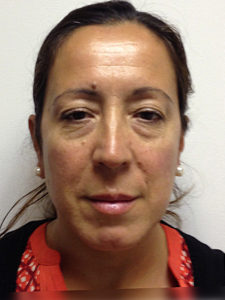 Before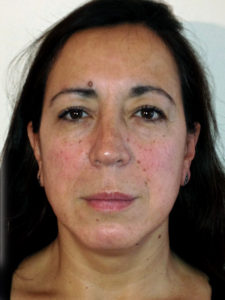 After
Before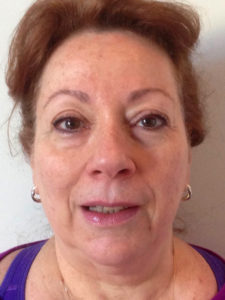 After