I was recently lucky enough to work with top make up artist Ruby Hammer (check out her Ruby & Millie range) on a photo shoot. As you would imagine, she's a mine of information and knows every trick in the trade. She applied my foundation with a an egg shaped sponge and was adamant this sponge is an absolute must for every women! She was literally raving about it! It's called a Beauty Blender and here is what she says about it.
(PS The make up ladies I was working with on Miss Marple this week all had their little pink eggs out and ready to use! They were big fans and said it gives great texture to the skin that is different from other sponges. Except Pam ….whom I know will be reading this and will laugh when she sees this! )
---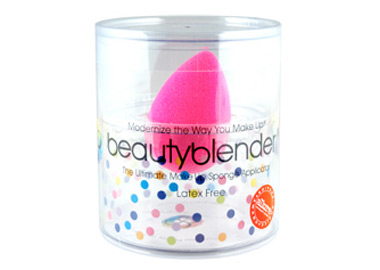 I love the shocking pink toned Beauty Blender that I've been using for a few years now to apply Foundation… fingers / brushes / wedges are good……but what makes Beauty Blender stand out for me …is the fact that is an anti-bacterial sponge ….once wet ….it grows in size and allows me control when applying base……I can go as sheer or add more cover….it gets into all nooks and crannies and makes your base look  foolproof.  I use a special  cleanser for washing the sponge after every use recommended by them( lavender smelling). Beauty blender is latex free – non allergenic and odour free.
It also comes in a new colour of White ….which I use to apply my skin care….moisturisers / masks and I find it fab for applying Sun Protection…. Which is very important in my gentle  battle  against Anti- Ageing…..meaning I can apply my face sun protection uniformly and evenly without fail…. Makes it fast too…when I am time strapped.
Ruby Hammer x
Beauty Blender – Buy Now