---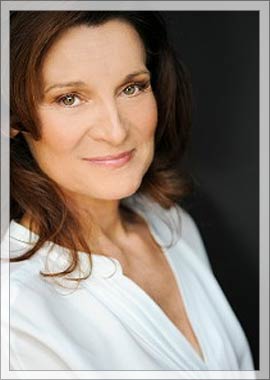 I have always believed beauty comes from within.  As I get older and the signs of a long life begin to show on my face I still believe that.
Our looks reflect what we think, what we eat, how much sleep we get and how deeply we love.  I think we should do what makes us happy and gives us a burst of energy.   I take pleasure in the small things, daily rituals, a sunset, a glass of wine and every little accomplishment.  And when I work I give 100%, I'm firing on all cylinders and that feeling of fulfilment is the most rejuvenating.
I eat organic, lots of greens and fruits, foods that are bursting with natural vitamins.  I try to exercise every day and recently took to doing Kundalini Yoga.
The role models in my life have a vitality, a purpose, a 'Joie de Vivre' that you cannot find in a bottle.  So I try to have a great attitude and be positive, even when things are a bit rough.  Stress shows on the face.  If you have your health, the love of family and friends and a sense of self, then life is pretty good.
In these times, with youth potions, face and body augmentation and promises that claim to give the fountain of youth, sometimes just being kind to yourself is good enough.  The pressure to maintain youth can be so demanding.   We cannot stop the clock, but we can choose to embrace the best we have, accept that we are no longer teenagers and be grateful we are still alive to enjoy each and every day.  Ageing gracefully can be more attractive than desperately holding on to what doesn't exist anymore.  I try to focus on what feeds the soul, have no regrets, live in the present and not dwell on the 'could haves'.   A beautiful smile is the most natural facelift.
Catherine McGoohan
---
 Catherine and I met in an acting class in LA. The teacher decided we should do a scene together as we were both Brits! From the moment we started rehearsing we did nothing but laugh. I'd found a kindred spirit. Catherine is nourishing to be around. She exudes humour, kindness, thoughtfulness and compassion.