Posing for this stunning picture as they step out for a new TV dance contest, Dempsey And Makepeace's Michael Brandon and  Glynis Barber reveal why their unlikely showbiz marriage has lasted against the odds
A Daily Mail Article by Jenny Johnston
When it comes to iconic TV couples we all have our favourites, whether it's The Good Life's Tom and Barbara, Den and Angie from EastEnders, or even Homer and Marge Simpson.
But if you were glued to the box in the 80s, Dempsey and Makepeace would be definite contenders. The police show, which featured a terribly posh (and titled) sergeant teaming up with a streetwise New York cop, may only have run for a few years, but at its peak it was getting 20 million viewers – who took the fictional couple to their hearts.
When the actors playing them, Glynis Barber and Michael Brandon, paired up in real life, fans were delighted.
OK, so it probably wouldn't last – it was famously on/off for a bit, and he had a list of celebrity exes including Kim Novak, Dallas star Linda Gray, and was once married to The Bionic Woman, Lindsay Wagner. But somehow the big shock – even for them, it seems – is that, 23 years after tying the knot, they're still happy and in step (sort of).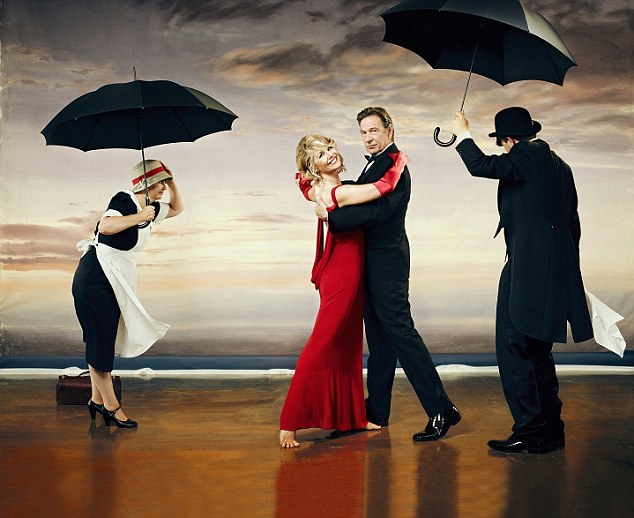 Now they've been back on our screens together for the first time since then, in ITV's Stepping Out, a new dance show billed as a cross between Strictly Come Dancing and Mr And Mrs. 'It's basically Strictly without the professionals,' explains Glynis, 57.
'Instead of dancing with someone who knows what they're doing, I get… my husband.' The roll of the eyes says it all. While Glynis has a modicum of dance experience, Michael, 68, has none. She vaguely knew he couldn't dance, but assumed he'd learn.
'Alas, when we meet, a few weeks into rehearsals, Glynis is looking panicked. It seems our idea of these two as the sophisticated power couple is about to collapse in a heap, rather like he did on the very first day (he pitches up for our interview with his foot strapped up).
Let's just say I've been shocked by Michael's level of not being able to dance,' admits Glynis. 'It's not just dancing. He can't count. You know when you're dancing you count to eight? Well, Michael doesn't get why it has to be eight. He wants to go to nine or ten, or 12 or 24.'
It doesn't help that they're competing against contestants such as former Westlife singer Brian McFadden and his wife Vogue, and JLS star Oritse Williams and his girlfriend AJ, none of whom are strangers to the dance floor. 'There are moments of such frustration I'm quite scared about how the programme is going to go. I suspect a lot of it is going to be me shouting at him.
All the other couples are so young and loved up, and they'll probably be going, "Oh honey, honey". And I'll be yelling at Michael and the audience will think, "that poor man".' In fact as it turned out, in the show's first week Glynis and Michael put on a good show, with judges Melanie Brown, Jason Gardiner and Wayne Sleep placing them third, which gave them a huge boost of confidence before the first elimination round.
'Instead of dancing with someone who knows what they're doing, I get… my husband.' The roll of the eyes says it all
'Instead of dancing with someone who knows what they're doing, I get…my husband.'
The roll of the eyes says it all
What sets this contest apart from Strictly is that cameras follow the couples away from the rehearsal room, though Glynis and Michael stipulated they didn't want cameras at their London home as it wouldn't be fair to their son Alex, 20. 'But they're with us all the time – it's like, "Get away from us!",' says Glynis.
Who knew such a glossy couple could still keep each other on their toes? I ask Glynis what Michael does that annoys her. She pauses to think. He beats her to it. 'Breathing,' he says.
Does Glynis do anything that gets on his nerves? 'She talks to me during the last two laps of the Formula One, in front of the TV,' he says, despairing. 'It's the only way I can get your attention,' she retorts.
Eventually, she giggles. 'I think people have a romantic view of us and think, "Ooh it's so lovely: Dempsey and Makepeace, married." But we've been married for 23 years, and get on each other's nerves. But I think we're actually a pretty typical couple. There is no such thing as a perfect relationship. I don't know anybody who is perfectly happy.'
The tale of how they got together is impossibly romantic, of course. Forced together on set, she couldn't stand him ('He was this brash New Yorker'), he thought she was stuck-up – but gorgeous. 'I made all the first moves,' he recalls of those early days, circa 1984. 'It took longer than I expected! She was formidable.'
In some ways they were – and are – opposites. She's neat, precise, analytical. He's spontaneous, messy, unpredictable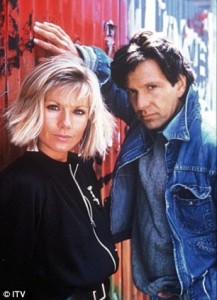 In some ways they were – and are – opposites. She's neat, precise, analytical. He's spontaneous, messy, unpredictable. By rights their relationship shouldn't have been able to weather the storms of family life. But Glynis thinks the arrival of their son Alex changed everything.
Michael wanted kids more than she did. 'I was in denial when I did get pregnant. When the doctor called to say my test was positive, I couldn't process it. Michael took the call.'
The story of the pregnancy test is a sitcom itself. With Glynis refusing to speak about it, Michael excitedly rang his parents. Later, she asked him not to tell anyone. 'It was actually 1 April, so he called his parents back and said, "You know I said Glynis was pregnant? April fool!".'
Fatherhood has certainly settled Michael down, although meeting Glynis was equally significant. 'I'd been a rogue. Meeting Glynis grounded me.'
'Being with another actor brings certain problems,' admits Glynis. 'You go through periods where you barely see each other; but having one's husband at home all day is a nightmare – which is why Michael has an office in the garden.' ('It's a shed,' says Michael.)
Still, they agree on the fact that most acting unions falter because, as Michael says, both parties 'live in a bubble so much of the time'. 'I see why so many people in our business don't make it. When you're away on location, you don't have any of the daily things of dealing with the family – marriage, kids, mortgage, you're cocooned from it. You find yourself thinking "This is good. That other stuff is so hard, I'm good to be out of it." But at some point you have to realise it's not real, and the grass is never greener.'
He believes Stepping Out will strengthen their marriage. 'I'm rediscovering my wife,' he says. 'Are you?' she replies. 'Oh yes, all these powers I didn't know you had, and this wildness…'
She rolls her eyes, but he's still managed to make her laugh, which is clearly the key to why the unlikeliest of showbiz marriages is still going strong.