The story behind this amazing deodorant range is very inspiring and also has a personal element for me. I happen to know the co-founders Ed and Andy and two nicer guys you could never hope to meet.
Started by two West End performers who know a thing or two about sweat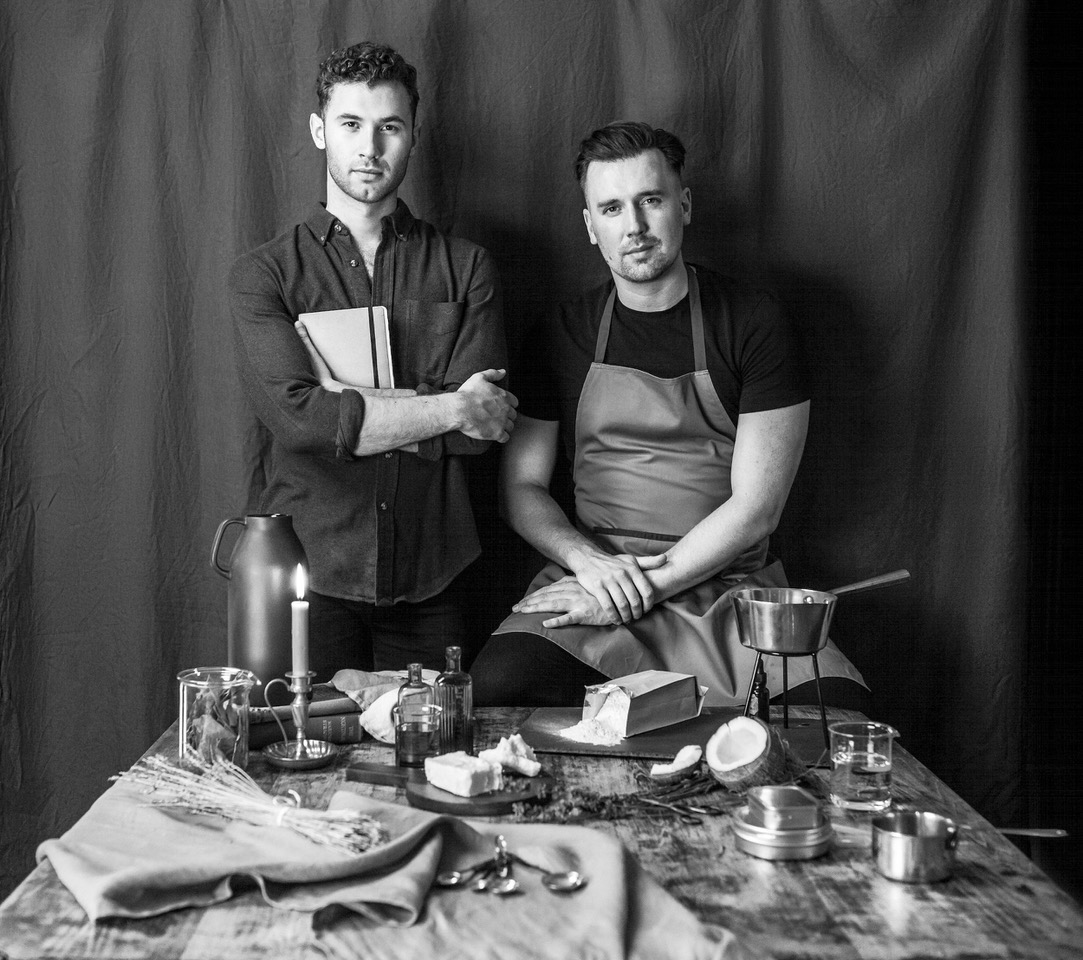 I worked with them both in a production of Beautiful in London's West End in 2015.
Dancing and performing in 8 shows a week, running up and down 5 flights of stairs to their dressing rooms between scenes, multiple and very rapid costume changes, is a VERY sweaty business. They got tired of smelling like teenage boys and nothing they used seemed to help. Anti-perspirants have a bad rap, stain your clothes and didn't work. Natural deodorants worked for about 5 minutes before BO set in.
Ed was determined to find a solution
The story begins at Ed's kitchen table where he came up with the idea to create a deodorant that actually works.
They literally set to work at the kitchen table and started experimenting
Ed found a formula online but it caused a rash and was really sticky. However it did seem to do the job. He kept experimenting and eventually came up with a smooth, calming formula and gave it to some of his performer friends to try. They all loved it. After the encouraging response, he and Andy decided to try and make it into a business. However, they were determined it would be absolutely natural and ecologically friendly with no plastic of any kind in their packaging.
To honour it's theatrical beginnings they decided to call it AKT
Cut to a couple of years of incredible hard work and many obstacles later and they finally launched in the spring of 2020 which of course was at the start of the pandemic. That wasn't exactly easy but they've been an instant hit.
Vogue has declared them to be the no.1 deodorant
But more than that, they've created a stylish range with the most beautiful gold metal tool for applying the deodorant balm and a very nifty tube squeezer. These are made from brass with a sleek, elegant design. Along with a tube of deodorant this would make a superb gift for both men and women. And the amazing achievement is that they've managed to stick to their eco principles.
The entire range is plastic free
The tubes are made from aluminium which is highly reusable. They even had aluminium caps specially designed to fit the tubes. A first of it's kind. They don't even use tape on their boxes when shipping. None of this has been easy but they were determined to stick to their principles. It's therefore no wonder that they were also awarded Best Deodorant in another prestigious magazine.
Best deodorant in Harper's Bazaar "Best of the Best in Beauty"
I mean wow!
But what is the deodorant balm like to use? I can honestly say it's as good as it sounds. I was so impressed with the beautiful gift box they sent me. Called The Ensemble, it contains all 3 of the fragrances of the deodorant balms, the applicator (a wonderful way of applying the balm while stimulating your lymphatic system) and the assistant which helps to squeeze every last drop out of the tube.
The balm melts into your skin
I was expecting some stickiness which is the norm with deodorants but there was none. The ingredients are all entirely natural and will nourish your skin as well as stop all that sweating.
And does it work? Yes, is the resounding answer from every single West End performer
They sent samples to every single West End actor at the beginning of their journey and the performers were all so impressed that Ed and Andy decided to start a kickstarter campaign to raise funds. They met their target on the first day. It's that good.
The different balms all smell wonderful and have whimsical names
After The Storm (earthy but not heavy), Orange Grove (fresh and citrusy) and The Onsen (more of a floral but not at all sweet).  It's completely unisex and I loved the smell of all three. I thought at first After The Storm might be too masculine with it's woody cedar smell. But a touch of orange and eucalyptus lightens it and makes it very wearable for women.
This really is gift heaven. The Assistant and Applicator take it to another stylish level if you feel like spoiling or impressing someone. But a tube of the balm on it's own is going to be loved by anyone you give it to. Which of course may just be yourself. And who can blame you?
To find out more you can check out their website below: