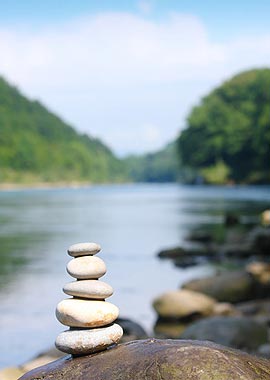 I really don't know what took me so long! Right under my nose, under my very feet is one of the best meditation teachers around….my husband. He may be an actor but he has also been a meditator for many decades. He has taught some of the toughest people on the planet in some of the toughest prisons in both the US and the UK. When he gave classes at The Priory awhile back, I went to one and completely forgot he was my husband. I sat in a circle with the rest of the class and went to a deep place of serenity and joy. Meditation has a wonderful effect on the brain (scientifically proven) and along with breathing and exercise is the most effective stress reducer. And nothing will age you faster and undermine your health more than stress.
If you have never meditated it can seem a bit daunting. Here, Michael Brandon (my favourite meditation teacher), shows us that it's really quite simple.
---
Meditation is easy; it's simple and is the action of doing nothing. The only thing that usually goes on while you try to meditate is watching your mind trying to think about something. Once you are able to do that, witness without being attached to the thoughts you are watching, you are truly meditating and free. Detached would be a better word. To put it simply, the mind wants control all the time. The mind thinks and one of the things it thinks most is 'I am running this ship'. The ship being you.
So to begin meditating sit comfortably with a firm pillow under your hips and your leg's easily crossed and your back straight but not rigid. Or sit in a chair if that's more comfortable with both feet flat on the floor. You loosen your belt, close your eyes and just breathe naturally, in through your nose and out through your mouth.
Not thinking, that's the hardest part, well not hard but it's like telling a puppy to stand still. So instead of letting your mind go all over the place, give it a focus; an action that occupies it so it leaves you in peace, like imagining a candle flame in the centre of your heart. This flame is steady and can't be blown out. Let the mind focus on the flame. As you focus on the flame thoughts will still come and you can watch your thoughts but do not get involved with them.
Imagine your thoughts like clouds in the sky floating by; you watch them blow across the sky of your mind. Just don't go with them. It happens with practice and soon a certain kind of detachment allows the mind to relax and be at peace. A clear sky becomes a calm mind.
Then the fun part, you begin to meditate. You breathe and allow your mind go deeper inside. Gently, like a fish swimming deeper into a beautiful sea without effort, let your mind go deeper within. This inner focus takes you to a calming place within yourself, the mountain top or the sea bottom within.
Here you can be still. Rejuvenate and leave all your problems or in fact find solutions to them, move on from them or see them not as problems. From detachment we still the frantic ramblings of the mind. When you breathe you bring life to the cells of your body and in meditation you bring healing to your entire existence. And exhale…Namaste.